This morning, on 30 June 2020, the MOBI-US project has reached another important milestone. A total of 40 participants, between consortium partners, industrial and academic stakeholders, as well as programme leaders from the future networking institutions, participated in the first day of the MOBI-US Online workshop. This event was supposed to be held in Wroclaw, Poland, but due to the COVID-19 restrictions on travel and social interaction, it had to be split in two parts – Online (30/06 and 01/07) and a face-to-face event (which will happen later in 2020).
The first session started with welcome words from the project coordinator Ferenc Mádai, followed by a quick round of presentations of the consortium members and programme leaders of the partner institutions. In the following section, Ferenc presented an overview about MOBI-US, highlighting its background, objectives, structure, timeline and Key Performance Indicators (KPIs). One important mention was the Industry Workshop, which will be held in December – in Krakow, Poland – in order to collect the input from industry members of the raw materials sector in the ESEE region about the mobility routes for the students.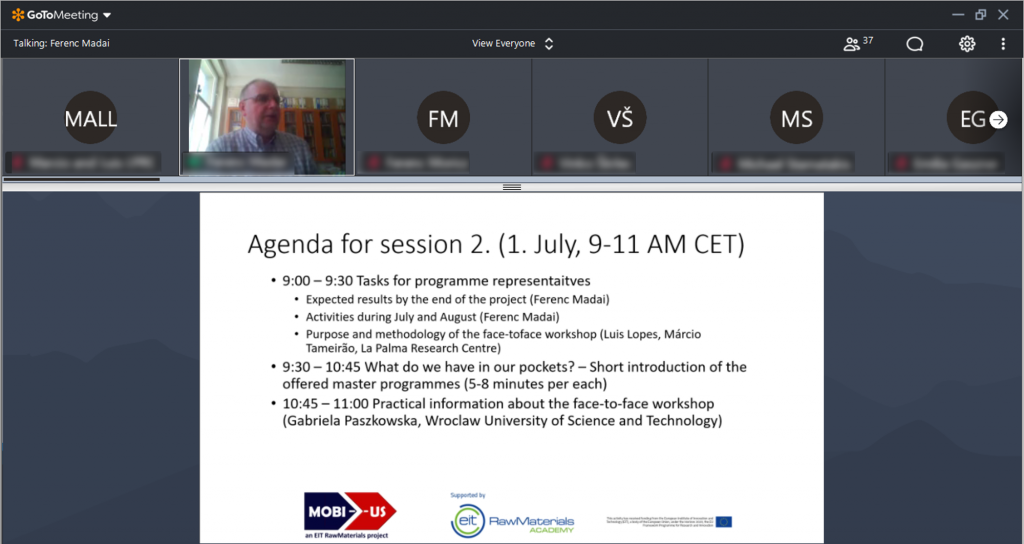 The third and last session of the event was dedicated to the representatives of the consortium partners Aalto University, La Palma Research Centre, University of Zagreb-RGNF and TU Wien. The presenters talked about relevant chapters of the guideline document on structured mobility, which was developed during the first semester of MOBI-US.
The presentations were the following:
TU Wien: Mobility window organizational issues, best practices.
Aalto University: Best practices for joint programs.
University of Zagreb – RGNF: Opportunity analysis, challenges for the ESEE raw materials sector.
La Palma Research Centre: Skills, competence gaps and needs of the raw materials sector.
After that, there were discussions and recommendations from the Advisory Board, in order to improve and align MOBI-US' structured mobility network towards a successful conclusion.
Tomorrow, on 1 July 2020, there will be the second and last day of MOBI-US Online workshop event, with more presentations and discussions. Stay tuned!
Follow MOBI-US on