Today, 1 July 2020, was the second and last day of the MOBI-US Online workshop, which concludes the Phase 1 of the project – the first project semester. The e-meeting had a total of 42 participants, between consortium partners, presenters, members of the Advisory Board, and stakeholders from the academic and industry sectors. 
The event started with a presentation from the project coordinator Ferenc Mádai, about the expected results at the end of the project, such as the organization, staff and material that need to be inline for a proper execution of the structured mobility between the universities. In addition, Ferenc presented the "homework" for the program representatives of the partner universities, as a preparation for the Matchmaking Workshop in Wroclaw – Poland.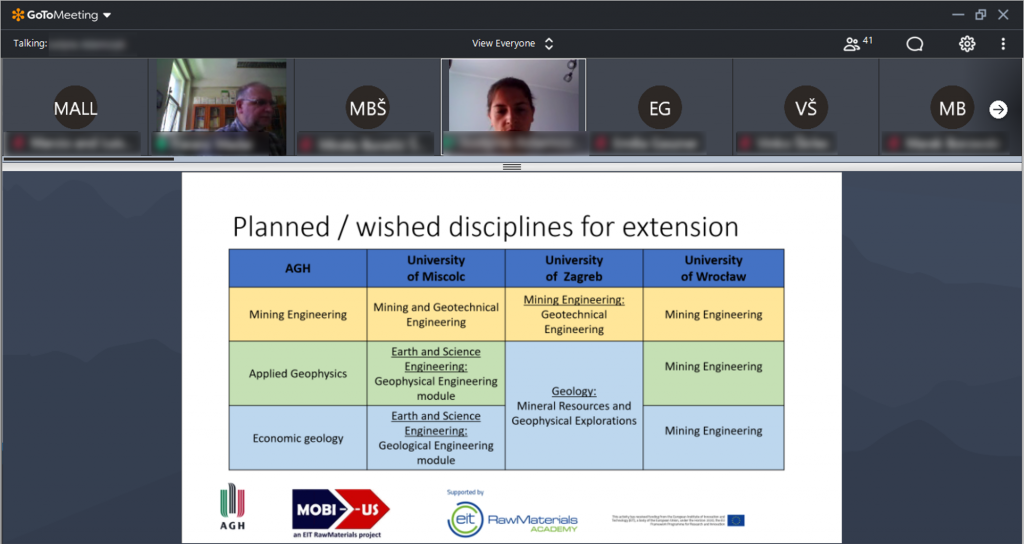 After that, LPRC representatives talked about how the Matchmaking Workshop will look like. The company has extended experience in leading and moderating workshops, therefore the planned activities, matchmaking exercises and discussions were presented.
Following, the program leaders of the networking universities (AGH, UNIM, RGNF and WUST) presented the education programs that are going to be offered for MOBI-US' students; and also briefly mentioned the potential partners for networking based on the strenghts and weaknesses of the currently offered courses. The presentations covered the scope, structure and objectives of the programs; planned / wished disciplines for extension of the home program by using mobility windows; and the contact details of the people in charge of the mobility route development.
Finally, Gabriela Paszkowska, from Wroclaw University of Science and Technology (WUST), talked about practical information about the Matchmaking Workshop, to be held on 7-8 September 2020, in Wroclaw – Poland. WUST is the technical organizer of the event.
Click here if you want to learn about the outcomes and details of the first day (30 June 2020) of the workshop.
Follow MOBI-US on